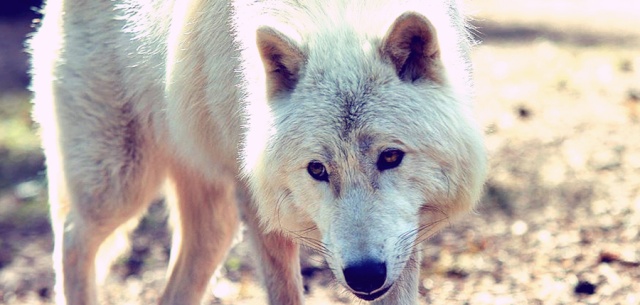 Name: Kistara Valor
 Nickname(s): Scarecrow, Tara.
 Age: four years
 Gender: female
 Rank: Hunter
Why you want to be in that rank: Kistara is an excellent hunter due to her high stamina and knowledge. She would preform best in this rank.
 Breed: Arctic Wolf
 Appearance: Kistara, a princess with her good looks and high praised manners; compact structuring with prominent curves and tea cup paws, ivory pelt with only a few gray bits splotched on her face, sweet smile and a mysterious pair of deep chestnut eyes. Her fur is strung closer together, making it look fuller and thicker than some.
 Personality: She lives for the thrill of life; the ups and downs, the sweet surprises, and for the most part – playing her simple minded and very logic based games that may or may not lead to the utter destruction of another. She can only chuckle at all your wise-cracks and grin for all your compliments, small stereotypical flirts. All in all, Kistara is a total flirt who lives to please everyone she meets and be of standard to them. She can barely make a decision about herself without getting the approval of another. And the fake melancholy that is carried just behind her eyes – overrated by many. She is a pathological liar but not a sociopath; she simply cannot stop lying to you until she gets what she wants.
This gal may be called manipulative once and awhile but that never gets to her. Kistara just laughs it off and goes on to please someone else with her magnificence. This elegant beauty has a very pleasing personality, or at least that is what she disguises her evil as. She makes everyone she meets love her and will talk until she can't speak anymore. Just once you think you are in love and are seriously considering asking the question, Kistara will leave you with only a simple 'sorry'. She truly is the pretty princess that has been turned corrupt by the queen.
Histrionic Personality Disorder – the condition where ones inflicted will exaggerate their emotions and carry a very exciting and dramatic sense all the time. It may be fun at first to meet someone so seemingly perfect but that (in all senses) is totally the backwards way you should be looking at the whole situation; after awhile of her 'tag' playing you will get sick of it and will grow weary of even looking at Kistara. This sense of rejection will only make her that much more inclined to get your approval. She will develop a mad fixation on you and will stalk you for as long as you try to ignore her. This temptress truly is mad.
There is another thing you probably noticed about her. In sad situations she will smile or burst out in a hysterical fit of laughter and will do the opposite when the situation is happy. If she feels angry she may begin to tremble, seemingly from fear. At totally random times you may find that Kistara has begun to either cry, laugh, or experience some other overwhelming and uncontrollable emotion to the fullest extent possible.
 Past: Her puppyhood was fine; she had a good life with her parents and one brother. She grew up with a highly mannered family and followed the customs of obeying your elders to the fullest extent possible. Kistara learned to carry herself high and never feel hurt. She was taught not to play fight, bite, talk bad about the rest of the pack -- she was the perfect pup. She was taught to always listen, always obey, and fulfill your duties. Her parents favored her over her bad mannered brother and always payed attention to her, giving her whatever she wanted. She was spoiled and looked upon with utter disgust when she grew into 2 years of age. All she could do was flirt -- that is all she knew to do that could help her over those disgusting parts of herself.
 Negatives: Kistara trusts too easily, it may just be a lie she believes herself but still, she will trust you within seconds of you saying she can. Kistara is very un-loyal and will back-stab anybody if a better offer comes along.
 Positives: Kistara is an excellent hunter with her high stamina and love for the wind against her fur. She has very good manners and can be quite polite when she wants.
Power: Puppet Mastery
 Gifts: she is great at hunting. She is an excellent liar and infiltrator. She has high stamina.  
 Family: all deceased
 Mate: none
 Pups: none
 Friends: none at the moment
 Enemies: she is bound to make many.
 Crush: none as of this time.
 Password found in "Guidelines": [Bolt edit]
Last edited by Kistara on Wed Jul 23, 2014 3:36 am; edited 1 time in total

Kistara

Hunter





Posts

: 5


Lunas

: 3


Join date

: 2014-07-23


Age

: 20


Location

: Beaverton, OR.



Your bio looks awesome, but before I can accept it you must fill out rank and why you want them to be in that rank.
_________________

Bolt

Alpha





Posts

: 233


Lunas

: 139


Join date

: 2014-07-08


Age

: 23


Location

: In the land of the insane. Care to join me?



I knew I was forgetting something.. Fixed!

Kistara

Hunter





Posts

: 5


Lunas

: 3


Join date

: 2014-07-23


Age

: 20


Location

: Beaverton, OR.



ACCEPTED!

Welcome to the pack!
_________________

Bolt

Alpha





Posts

: 233


Lunas

: 139


Join date

: 2014-07-08


Age

: 23


Location

: In the land of the insane. Care to join me?



This bio is so good! Cant wait for her to meet Kim Omg!
Similar topics
---
Permissions in this forum:
You
cannot
reply to topics in this forum