Name:
Colossith
Nicknames:
Cola, Colo, Collie, Sith
Age:
3 years old
Requested Rank:
beta
Appearance:
Colossith is a Tundra wolf. He has beautiful, white, soft, fluffy fur all around him. The tip of his ears is red though he also has a big spot around his left eye. He also has a r ed line on his left front paw. Colossith has three small brown dots under his right eye and he has a long brown line on his back. His paws and the tip of his tail is also a dark brown. If you look close, you will notice Colossith has two different eye color. One being a golden yellow and the other one being a dark blue color.
Photo:

Personality:
Colossith is an extremely serious wolf at all time, but at time to times, he can beind though it`s very rare. The first thing you would say when seeing Colossith is that he`s a cold hearted wolf, but that isn`t quite true. The truth is that Colossith cares, but only for a  few people. Colossith barely smiles or laughs, though he refuses to tell why. He isn`t much of a talkative wolf, he tends to stay quiet most of time since having a conversation with others is complicated for him. Colossith has a trust problem, so it might take time before he trust anyone. He even has trouble trusting his own family for some reasons.
Strenghts:
*Running. He runs quite fast for a wolf.
*Bravey. Not all wolves have this, but Colossith does.
*Intelligence. He is smart and won`t let himself be fooled again.
Weaknesses:
*Water. For some reasons Colossith has always been scared of water.
*Excluded. He tends to be excluded each time.
*Judge. Colossith has always been judge
Likes:
* Trust worthy wolves*
*Seeing bravery*
*Feeling powerful*
*Be respected*
Dislikes:
*Showing his weaknesses*
*Being judge by others*
*Feeling excluded*
*Betrayors*
Family:
*Mother:Alive
*Father:Alive
*Kali:Alive
*Fell:Alive

History:
New World
On a cold February afternoon, a beautiful black female with red eyes gave birth to three pups, Kali, Fell and Colossith. Within these three pups, Colossith was the only one that didn`t look like his mother or father and was the youngest of all. Kali and Fell looked exactly like their father, Nine. They were described as being their father`s portray, which Nine felt happy about. As soon Colossith came into this magnificent world, his parents have made him feel like he was a mistake. A big mistake. For the first three weeks of Colossith`s life, he was able to sleep comfortably near others and could be kept warm. When he reached four weeks, his father ordered him to go sleep in the dark corner away from them.  Colossith was only a pup so he didn`t really understood why his parents were doing this, but he thought maybe he just needed to grow up. So he accepted it.
Judging
Soon Colossith,his brother and sister were able to go outside and play with the other pups. At first sight everyone would mumble things being his back about him looking unormal. That immediatly made him feel excluded. No one would there play with him except for one wolf, Maila. Maila was a nice wolf and Colossith`s appearance wasn`t important to her, at least that`s what he thought. Maila and Colossith would spent there day together playing tag or catch the branch. They both enjoyed passing time together, though Maila`s parents disliked seeing their pup hanging around Colossith. For Colossith, being around Maila was fabulous as he felt liked, for once.
Betrayal
As Colossith turned two, he started having feelings for Maila, though he kept it a secret, for now. Each time Maila and him would pass infront of the other wolves, they would be shouted a song about the two loving each other. It didn`t really bothered Colossith, but it bothered Maila. Colossith couldn`t understand why, but he kept silence. One day, Colossith handed a small necklace with a beautiful blue stone hung on it to Maila. She would wear it every day. One day Colossith couldn`t hide his feelings towards Maila anymore. He decided to tell her how he felt, but infront of the others. For some reasons Maila seemed embarrassed. When he asked her if she would be his mate, she shook her head in dissaproval. Maila handed the blue stoned necklace back to Colossith before walking away, head low. Colossith felt destroyed. It was as if half of him was gone.
You Can`t Trust Anyone
After being badly broken inside, Colossith walked back to his den, hearring his parents whisper something . His parents hadn`t realized Colossith was standing near them, so they said what they thought. What escaped from Colossith`s mother`s maw,  made him feel even more destroyed. "We have to get ride of him." This phrase has been repeating itself in his mind every since. Colossith always thought his parents loved him, but he was wrong. He was wrong on both Maila and his parents. What had he done to deserve all of this? He wondered to himself. Since the day, Colossith offered his love to Maila, Maila seemed to ignore him and have made new friends. It was as if he has been forgotten by here, which nearly destroyed him even more.
Is Death My Only Way Out?
Colossith had nothing else to do but run away. He ran somewhere which remained unkown to him. It was the first time he was outside of his pack territory and the first time he felt free. Free of being himself. Though there`s a question he has been asking himself. Why was he still alive? After all everyone seemed to dislike him and he knew they would prefer seeing him dead than alive. Was death his only way out of this situation? Maybe, but he had to give a chance to his new life, though his hope for this chance to succeed is extremely low according to him. The tundra wolf soon found himself in a new pack territory.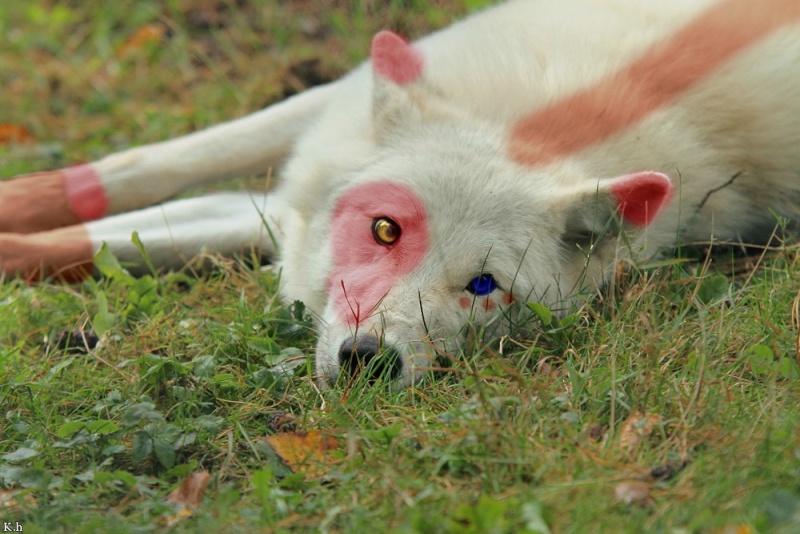 Colossith

Beta





Posts

: 168


Lunas

: 192


Join date

: 2014-07-08


Age

: 19



Accepted
You know how it goes. Gonna move it.
Ty and why is the beta category in the hunter's?

Colossith

Beta





Posts

: 168


Lunas

: 192


Join date

: 2014-07-08


Age

: 19



Fixed it.

Welcome to the pack!

Bolt

Alpha





Posts

: 233


Lunas

: 139


Join date

: 2014-07-08


Age

: 23


Location

: In the land of the insane. Care to join me?



---
Permissions in this forum:
You
cannot
reply to topics in this forum